Brasserie/Restaurant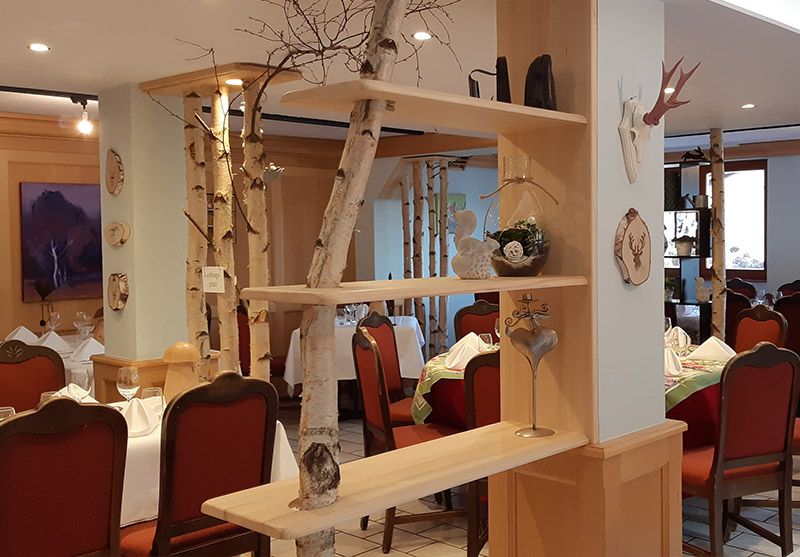 Enjoy theese restaurant rooms: one suitable for about 60 persons and the other for about 25 persons.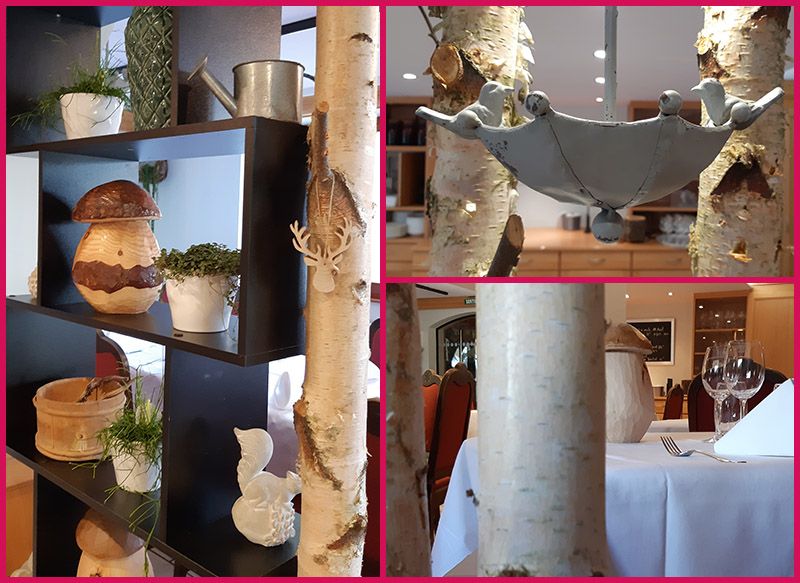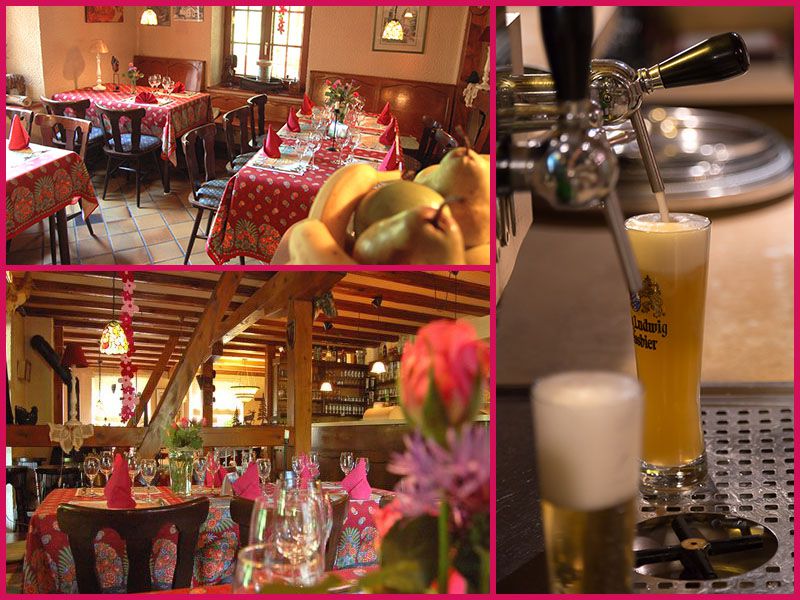 ---
Veranda/Terrace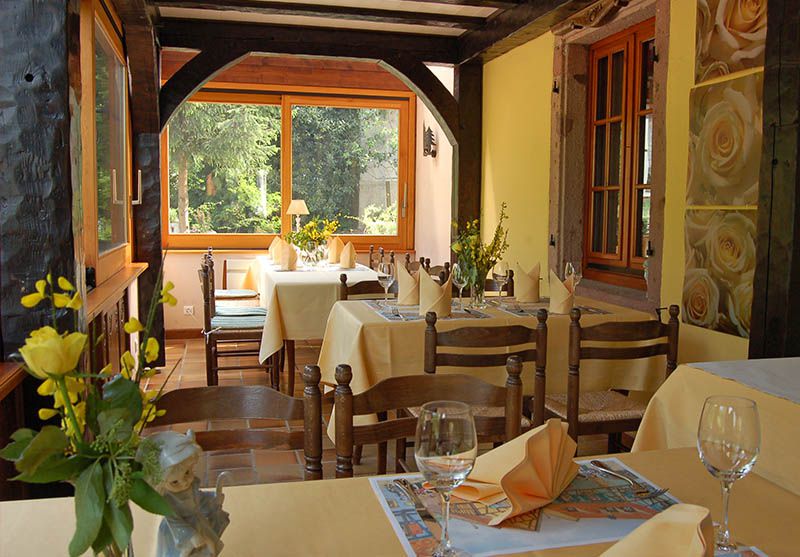 Outside or in the Veranda benefit the natural (vegetal) surrounding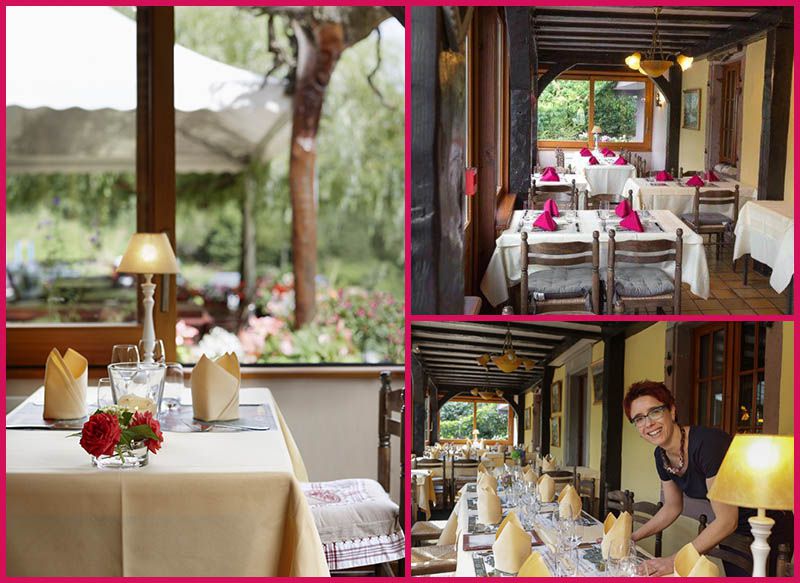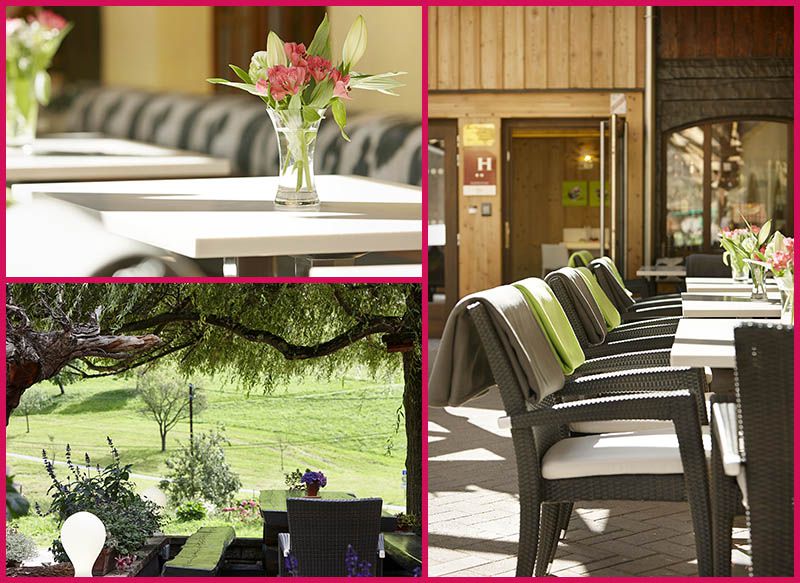 ---
Our gastronomy
Discover our alsatian, traditionnal and vegetarian dishes which suggest our kitchen team directed by Jacky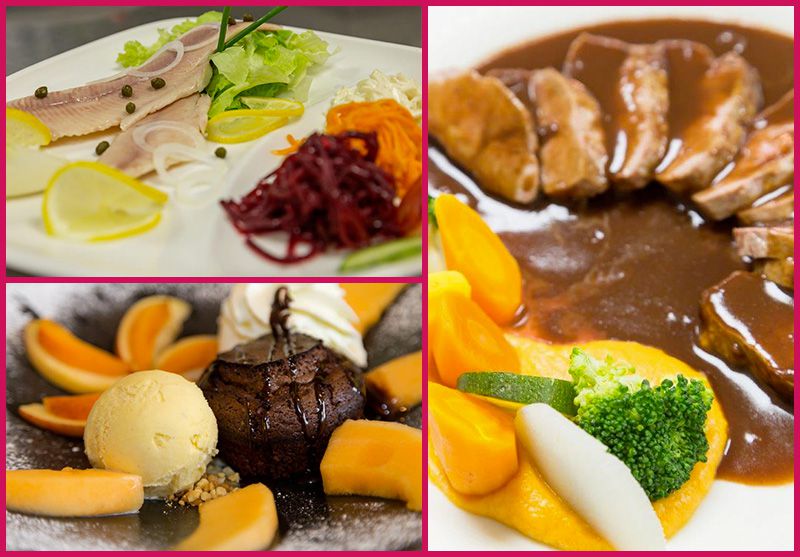 Every sunday for lunch we suggest the buffet "all you can eat".
( The childrens pay their age in Euros (from 3 to 16 years). )
Our menu for download:
menu-bagenelles.pdf
, every day we suggest more special saisonal dishes.
---
Groups are welcome.
We ask to choose the same plate or menu for the whole group (up to 10 persons) and inform us 2 weeks before at the latest. Other menus and suggestions are available on request.
---
Our favorit local partners

Wines
Becker, Zellenberg (www.vinsbecker.com)
Huttard, Zellenberg (www.alsace-jean-huttard.fr)
Klein, Saint-Hippolyte: (www.georgesklein.fr)
Freyburger, Bergheim (www.vins-freyburger.com)
Bott-Geyl, Beblenheim (www.bott-geyl.com)
Freudenreich Jean-Luc, Eguisheim
Wolfberger, Eguisheim (www.wolfberger.com)

Others
Humbert - cheese
Ferme du Langthal - goat cheese
La Savonnerie du Val d'Argent ARGASOL - soaps and cleaning products
Secrets du Val d'Argent - Meat
Le Chalutier, Bennwihr Gare - fish and mushrooms
La Prairie, Bindernheim - poultry
L'herbier des lutins - sirup and jam
Pâtisserie Baradel, Sainte-Marie-aux-Mines - cake shop

---
Our services
privative car park / outside playground for childrens / chill-out lounge / little farm / sockets for electric cars (
chargemap.com
) / motorbike garage / baby furnitures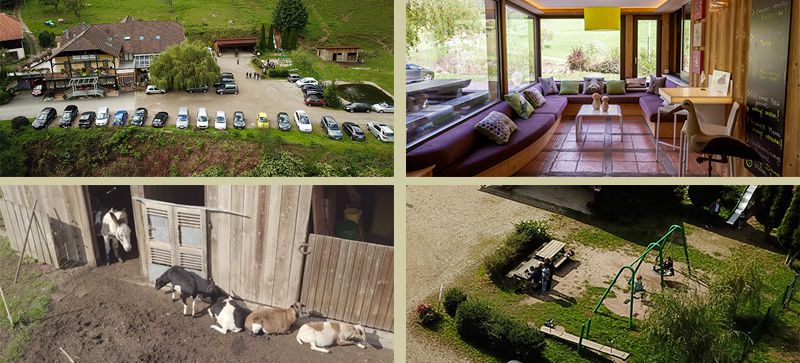 Other informations
BUFFET all you can eat 28 Euros
---
very sunday for lunch we suggest the buffet all you can eat.
Childrens aged 3 to 16 years paie their age in Euros.
Wild boar buffet 7 p.m.
---
15th august 2020 we suggest like every year our wild boar buffet. Per person 28 Euros / childrens paie their age in Euros.
Fish buffet 2020
---
For your information our fish-buffet dates:
10th april 2020 12h
10th and 17th october 2020 19h
14th november 2020 19h
Buffet "all you can eat" 38 Euros per person / childrens -50%